Hey Guysss! So recently I made a purchase from
BeautyJoint.com
, they are similar to Cherry Culture, as they also carry discounted makeup, except they sale only NYX. I heard about this site from a lovely lady on twitter[@Kysbelm on twitter] & had to check it out! I heard they were raising prices 4/1/2011, because NYX was raising their prices, so I had to order! Recently I did look at the site & only a few of the products prices have raised from what I see. Still, definately cheaper that the official NYX site & CC. Shipping was AWESOME! I ordered on April 1st & got my items that Monday, the 4th. They do use USPS priority & it comes from L.A. Here are the goodies I got & swatches!
I ordered 7 NYX round lipsticks for $1.99 each. They came in these boxes & the other was bubble wrapped with my lipglosses.
Swatches of the lipsticks;
I also got a powder blush in Peach for $3.95 & a single eyeshadow in Deep Bronze for $3.45. The blushes are now $4.25 & the shadows are now $3.75. Again, still both cheaper than CC.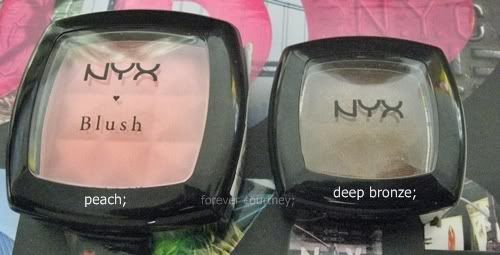 Here are swatches of the glosses, blush, & eyeshadow.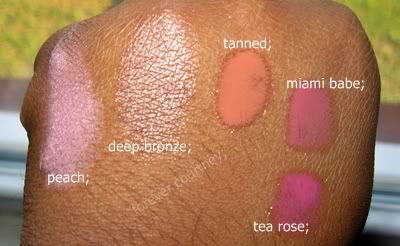 Well I hope you guys enjoyed the haulage!
Have you guys recently purchased any NYX goodies?
Enjoy your Saturday!
forever courtney;
:]