A few posts ago, I told you guys about the Still Glamorus Cosmetics summer sale. I did purchase a few items after seeing A Brilliant Brunette & Kasey, the owner of SGC, posted a neutral tutorial using her pigments. I picked up 4 pigments, a foundation, & she included a free sample baggie.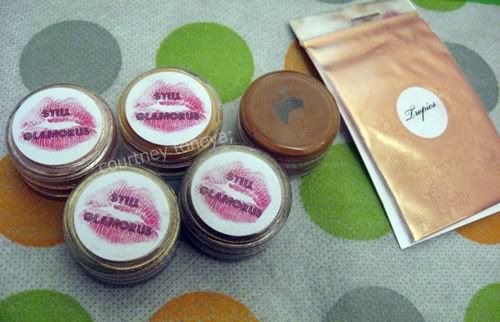 The pigments I bought. Only $4 during the sale!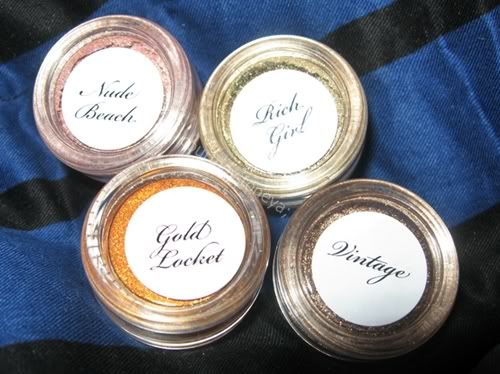 [From L to R]
Gold Locket, Vintage, Rich Girl, & Nude Beach.
Swatches: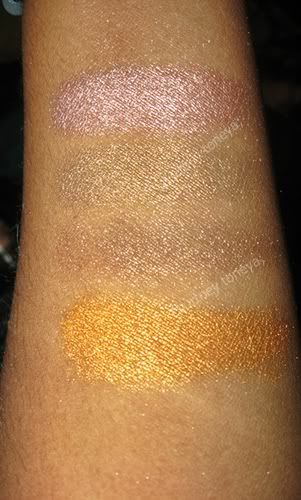 [Top to Bottom]
Nude Beach, Rich Girl, Vintage, Gold Locket.
I am a neutral girl, so OF COURSE I got all colors I would wear everyday. I am def going to be purchasing some colorful shades in the future. One things about these pigments is that there is a TON of glitter. Hopefully I won`t have a bad experience with these as I`m not a huge glitter fan. Also, Kasey did a video showing how she presses these, so I may try that with these pigments. I will def be using these in some future FOTDs.
Have you guys ever purchased from SGC?
If so, what are you fav shades?