I placed an order for some
GlamourDoll Eyes
[GDE] & totally forgot about my purchase. If you are not familiar with GDE, they are a company owned by a lovely lady named Vee. GDE sells eyeshadow pigments in an array of colors, eye glitter, & glamour gloss. She has a YT channel & always uploads the latest news about new products. I believe she is now working on an eye primer too, which I cannot wait to try! Normally, unless there is a massive sale, I can order & Vee will have my order shipped out same or next day. She is just incredible!
With every order, Vee includes thank you/business cards, stickers, & samples.
I ordered the "Foil Me" which helps to make your shadows more vibrant & last longer. It also is supposed to help glitter stick to your lids. It comes in two different types of packaging, the tube[which I ordered] & the dropper. I actually would have preferred the dropped instead of the tube. I have used this a few times & it definately does make the pigments pop more.
Foil Me in the tube costs $5.25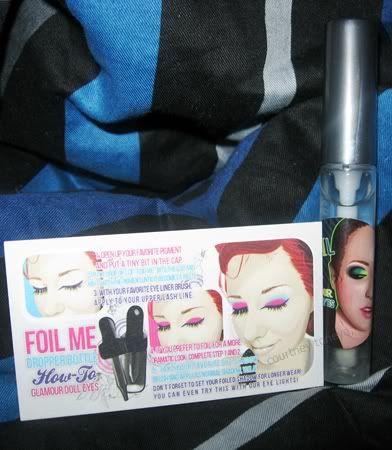 I ordered 11 shadows, in sample jars, but 1 has gone missing. :/

[Top to Bottom, Left to Right]
All Nighter, What's My Name?, Lace Panties, Catwalk, DinoSpotz, Dirty Jeans, Fabulous, Immature, Family Secret, & Electric Lemonade.
I think my favorites of the bunch are DinoSpotz & Dirty Jeans.
Prices:
I will certainly do swatches later if needed!
Have you guys purchased from GDE? Or have any shades you would love to try?