Hey guys! Sorry for the mini break.
I recently made a purchase with a local Avon rep & decided to share what I bought.
I bought some hair items[I`m a hair product junkie!] & some lip products.
Mark.`s Curl Goddess Styling Cream - $6.00
Advanced Techniques Frizz Control Curl Defining Gel - $4.99[On Sale]
Avon Smooth Velvet Lip Colors in Plumful & Pink Fluff - $.99[YES, $.99! Originally $6 Holla!]
Mark. Shine Tube "Hook Up" Lips Glosses in Caramel & Marshmellow - $2.99[On Sale]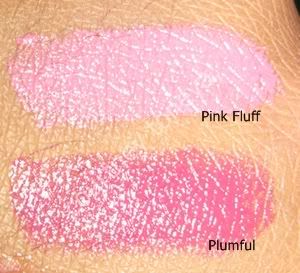 Above are swatches of the Velvet Lip Colors. The texture reminds me of the NYX Matte Lip Cremes.
These have more shine than the NYX MLCs.
Overall I`m happy with my purchase. I LOVE the velvet lip colors!
Pink Fluff is gorgeous! I can`t WAIT to try the gel & curl creme.
If you are interested in anything you see,
you can visit my Avon store here or order with your local rep!
Have you ladies tried any of these products?
Hope you have a great Sunday.
:]