As requested, I`m going to share my review & thoughts of the MAC Studio Moisture Tint[in Dark].

Pros:
Has not caused me any breakouts.
Lasts a long time. [I`ve had mines for a few months.]
Cons:
Smell isn't too pleasant.
Here is a swatch of the color;
Blended into my skin;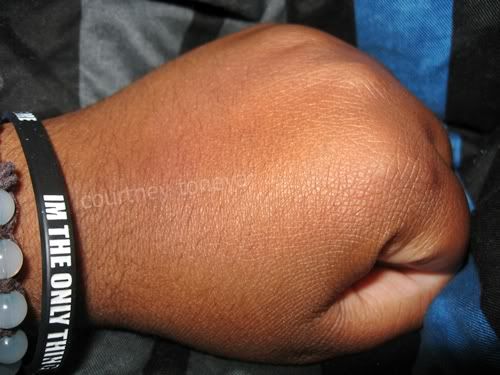 How I use MAC`s Studio Moisture Tint;
I start with a freshly washed face. I then moisturize my face, I use Nivea creme. [I NEED the added moisturizer due to my dry skin.] Then I apply the MAC Studio Tinted Moisturizer lightly onto my cheeks, forehead, & a tiny bit on my nose & chin. I then buff the tinted moisturizer into my skin with E.L.F`s Studio Powder Brush. Lastly, to set the tinted moisturizer, I used my MAC Studio Fix Powder in C8.
My thoughts;
I went to my local MAC counter to get matched for foundation as I can never find the perfect shade in drugstore brands. I was informed by one of the MUAs how she thought I didn`t need a heavy coverage, just something light. I totally agreed with her. She suggested the MAC Studio Moisture Tint[My shade is Dark], I tried it & it was actually very nice & blended well. However, when she told me the price, I wanted to immediately bolt out of the store! Lol. I tried ELF's TM, but couldn`t find the right shade[again]. I figured why no go ahead & purchase this. It actually has lasted a while. I bought this in February & still have a ton of product left. A little can REALLY go a long way with this TM. I love that this product is weightless on my skin & I love it! No breakouts from this as of yet. Overall I am happy with this purchase & will def be buying again once I run out!