So, after my last haul post, ELF decided to have 50% off the Studio Line. Of course I had to take advantage of that. I`d much rather pay $1.50 than $3 any day! :P Luckily, everything I ordered was in stock this time! Yay!
I did pick up some $1 items. The ELF blending & crease brushes, Tone Correcting Concealer in Honey, & a ELF Lipstick in Fantasy.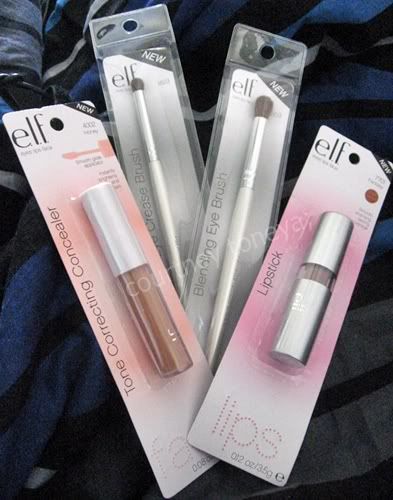 The concealer is very creamy. It's a little orange, but still works fine for me.
The ELF Lipstick is actually pretty nice.
I heard some not so good things about them on YT, but overall so far so good.
I bought some new tools from the Studio Line. 2 ELF Professional Powder Brushes[best brushes EVER!] &a ELF Cream Eyeliner in Black. I also got a new product, the Makeup Lock & Seal, so excited to try this out! The lock & seal is supposed to increase the intensity of your makeup & keep your makeup in place for hours. Can`t wait to test it!
I got the ELF Studio Concealer in Tan[it arrived broken, but I`m not bothering to contact ELF after my last order issue :/], ELF Studio Blushes in Giddy Gold & Gotta Glow, & ELF Pressed Powder in Coco.
Giddy Gold is gorgeousss! The concealer is pretty creamy, I like it so far.
The pressed powder is a tan too dark. Boo! Lol.
More Glossy Glosses! :D This time I got Sweet Salmon, Dragonfruit, & Berry Blush.
I also picked up a Matte Lip Color in Natural. I love every single one of these!
Swatches;
I was VERY happy with this order. I got everything I ordered, no issues aside from the broken concealer. I think I`m obsessed with the Glossy Glosses, I know own all of them except one I`m STILL waiting on. :/ If you guys want any reviews, let me know in the comments!
Links;
You can get 5.5% cashback when shopping @ ELF thru Ebates!
FYI - That is my referral link for Ebates, you can always just go directly to their site.
Current Coupon Codes;
GAN195 - $1.95 Shipping until 12/31!
ECD2 - 50% off Studio & Bath Lines
You can also check out RetailMeNot.com for more codes!
Thanks so much for reading!