Today I decided to share my current favorite nude lipsticks/glosses.
I chose 2 high end lipsticks & 3 drug store brand lippies.
ELF Lipstick in Fantasy[$1.00]
Revlon Super Lustrous Lipstick in Mink[$4.50]
MAC Taupe Matte [$14.50]
MAC Freckletone Lustre [$14.50]
ELF Glossy Gloss in Muted Mauve[$3.00]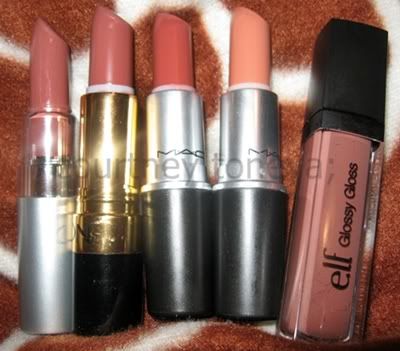 First of all, I think all of these lippies are WOC friendly. Mink is my new all time favorite lipstick. It's almost exactly the same color as my lips, however has a small hint of color. Fantasy is perfect. I can barely tell I have anything on when I am wearing this. Plus it is SUPER affordable[hello, only $1!!!]. Net up is Taupe. This was my first MAC lipstick. I knew it had to be mines after I swatched it. This is a pinky-brown shade. IMO, this shade is very pretty for WOC. Freckletone is my latest MAC lipstick. I would say this is a peachy-nude. This can be a bit TOO light & give off a Tyrone Biggums feel. So, for this lippie, I have to line my lips with a dark lipliner to make this work for me. Still I think it's a gorgeous color. Lastly, Muted Mauve by ELF. I have been waiting for this baby FOREVER. This was my missing gloss that got lost twice in transit to me. But I`m glad I waited for this one, this is the perfect nude gloss for me. I love that this gloss can last hours without touching it up.
Please do share your favorite nude lipsticks & glosses.
As always, thanks for reading.