Hey guys.
Here is my Halloween inspired FOTD.
I got my inspiration from Candy Corn.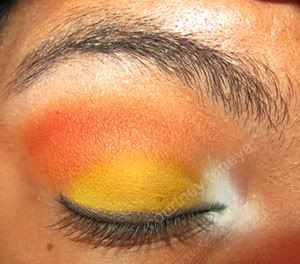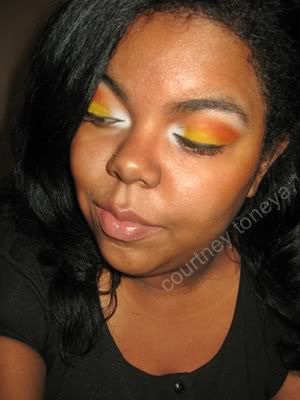 What I Used;
Eyes;
ELF Mineral Eyelid Primer.
MAC Groundwork Paint Pot.
ICE Cosmetics Pigments in HD Orange & Yellow Brick Road.
GlamourDoll Eyeshadow in Cloud Coverage.
MAC MSF in Redhead to highlight.
Wet n Wild Pencil Liner in Black.
Avon Extra Lasting Mascara in Brown.
Lips;
Rosebud Salve.
Revlon Lustrous Lipstick in Mink.
Face;
SleekMakeup Blush in Aruba.
Curls;
Finger combed pin curls on straightened hair.
Hope you guys enjoyed this look.
I possibly will be doing another before Halloween is here on Monday.
You can purchase Glamourdoll Eyes from here.
Avon Extra Lasting Mascara here.
&The Sleek Blush from here.
*All products purchased by me except the ICE Cosmetics Pigments. I won those in a giveaway.