Hi ladies.
Today I decided to review the
Avon Moisture Effective Eye Makeup Remover Lotion
. This product is a new staple of mines. Prior to this remover I would either use baby wipes to remove my makeup or Victoria Secret`s makeup remover. The VS remover was oily, but did it`s job. I saw that this was on sale for $.99 & I heard a few raves about this on Youtube, so I decided to purchase it & try it out. It only takes a little drop per eye to get the job done.
Below is the product.
You get 2 fl oz which will last you a while!
Here is the remover lotion & some black eyeliner.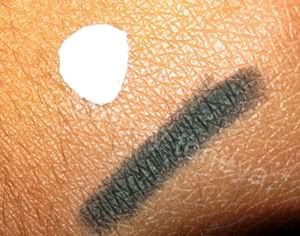 After rubbing the lotion on & wiping off with a damp cloth.
Pros;
Affordable.
Moisturizing.
Great for sensitive eyes.
Scentless.
Removes makeup VERY easily.
Cons;
I honestly can`t think of any!
I use this product on my eyes daily & have had no troubles. You just dab a little on, rub your makeup, &then wipe away with a damp cloth or a cotton ball. It works AMAZINGLY to remove the darkest eyeliner & waterproof mascara. Also, I wear contacts & it does not bother them at all when I use this.
FYI ~ This is on sale right now for $.99!
I`m def purchasing a few more.
Hope you guys enjoyed the review & thanks for reading.
:]
*Disclaimer; I am an Avon rep, however, that does not effect my opinion on ANY of the Avon products I purchase & review.