Hi guys.
So, as you saw in my
Cyber Monday Deals
post, I told you guys
Glamour Doll Eyes
was having 30% off the site. [Except Grab Bags, Collections, Circus Shadows, & Gift Certificates]
I decided to go through my collection & pick out my 5 favorites.
This was toughhh since I own a ton of their shadows.
It took a good little while to narrow this down to 5.
I have the older & newer shadows. The bottom shadows are the current labels.
Here are my picks;
Swatches;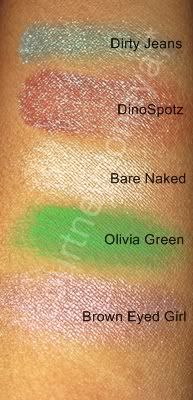 Descriptions from GDE`s site;
Brown Eyed Girl is an extremely shimmery brown with hints of purple undertones. Not vegan.
Olivia Green* is flat, matte, medium green pigment.
Bare Naked* is a mild, natural, gorgeous beige with a low sheen.
DinoSpotz* is an interesting color. It is a brown/red color with a hint of green glitter. The green really comes out when you use this shadow wet! This color is beautiful.
Dirty Jeans* is teal green and rubs into green-blue with golden hues.
My Thoughts;
I picked Bare Naked because this shade is my most favorite shade from GDE. I fell in love when I bought this. It`s the perfect shade for me to sweep quickly across the lids for a quick makeup day. Olivia Green I had to pick up after seeing Julia`s [missjbm22 on YT] galore of swatches. Brown Eyed Girl actually surprised me. I though this would be a nice shimmery brown shade, but upon swatching, it appeared more purple to me. So I knew I was in love after that! Dirty Jeans & DinoSpotz have duo chrome finishes. So I knew I was sold. As you see above, DinoSpotz looks like a reddish brown, but when swatched, the green really pops. Dirty Jeans to me looks like a light wash denim, but when swatched appears like a gold-ish light blue color.
As mentioned above, here is Julia`s swatch video.
I swear she has almost every shade ever made!
Be sure to check out the sale, which begins 12/28 @ 12AM CST & will last until 12AM CST on 12/29. Code to use is cybermonday11!
Be sure to check them out!
Thanks for reading ladies!
:]
I am a GDE affiliate, but I purchase all of my GDE on my own.