Hellooo!
Today I`m going to share yet another Avon haul with you guys.
Recently they had some good deals & new products I wanted to try out, so I picked up a few things.
I also ordered some gorgeous colored gel liners, but they ran out.[Boo! :/]
I picked up 2 more of the Avon Makeup Remover Lotion, they were on sale again for $.99! I also bought the Avon Extra Lasting Mascara in Brown & Avon Satin Satisfaction Lip Color in Va Va Vino.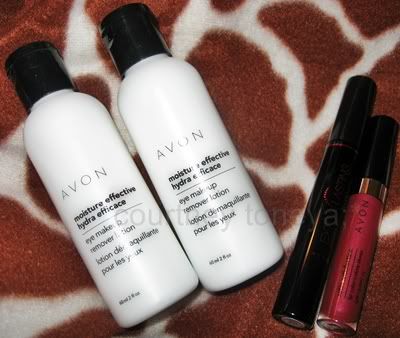 I picked up this cute gift set with Mini Avon Pencil Liners & a zodiac necklace that I think is super cuteee.
Closeup of the necklace.
Swatches of the mini liners & the lippie;
I loooove everything I got. I actually thought the liners were gonna be liquid, but I didn`t read the details. The payoff on these liners are AMAZING! Also, the satin lip color is to die for! I need to pick up a few more before they go off sale. The zodiac necklace I thought would be cute to have, though, I wish it were a bit longer. Oh yeah, the mascara is my new favorite! I`ve been using it everyday.
As always, these items can be purchased from your local Avon rep or on my e-store.
Since this is the holiday season & Avon has a TON of gift sets, I thought I`d offer a discount just for my blog followers!
From now until Dec 12th, you can shop my e-store to save 10% on your order in my shop.
If you spend over 30$, you always get free shipping.
Thanks soooo much for reading & I hope you guys enjoyed!
Also hello, to my new blog followers! I`m getting very close to 150.
Once I do hit 150, I will be having another giveaway! :D
Until my next post, have a lovely day.