Morning!
So on my road trip I knew I had to visit some CCOs.
Houston didn`t have anything that I wanted.
& Dallas wasn`t too impressive either.
However, I did pick up 3 things from the Dallas CCO.
So here`s what I picked up;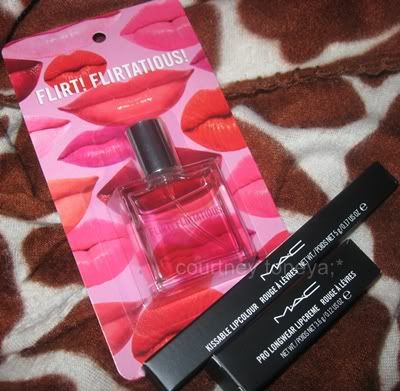 I picked up the Flirt! Flirtatious! Perfume for $12.
The sales lady tried to lie & say this particular size costs $40 in Kohls, when clearly on the back it said $14 under their CCO price sticker...
But it smelled fruity, which I like, so I bought it anyways.
I also got a Kissable Lipcolor from MAC in the shade Temper Tantra.
My third item is a MAC Pro Longwear Lipcreme in Goes and Goes.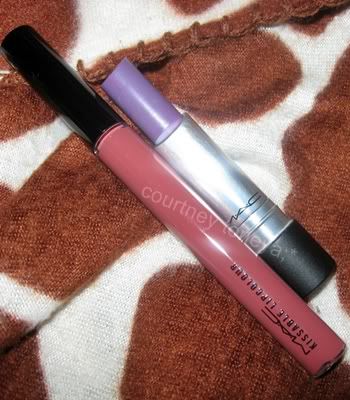 Swatches;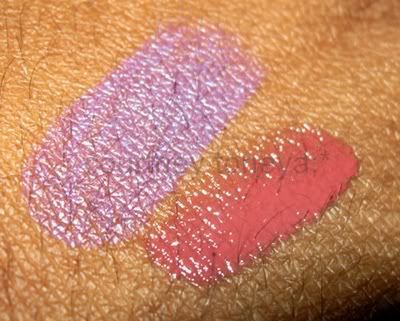 I was ecstatic to see the Kissable Lipcolor. I missed out on these & was happy to see them in the CCO. I bought last one in this shade. :D I thought it would be a great color for WOC. &Y`all know when I saw Goes & Goes I had to get that. I loooove a purple lip. They also had Go For It, which I should have gotten, but I didn`t. :/
I am very happy with my purchases.
At my local CCO, we never have anything.
I always just pick up a shadow or two to add to my collection.
Have you guys found any great deals or steals lately @ your CCOs?
Thanks for reading.
:]