Hey guys!
I wanted to start a new segment on my blog called Fab Finds.
Basically I will be sharing my cheap finds from discount stores such as Big Lots, TJ Maxx, Marshalls, ect.
Today, all of my items are from Big Lots.
I can NEVER find anything at my local Big Lots, but luckily I was able to find a few things my last few visits!
I found this lipgloss set from Black Radiance.
It includes four radiant lip glosses & one illusion lip gloss.
Best of all, it was only $4.50.
I`m not sure how much they each retail for, but for this price I could not pass this set up!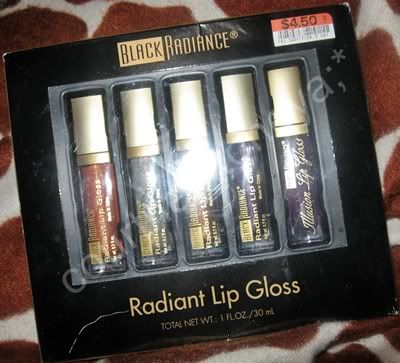 Closer look at the glosses;
Below are the swatches. As you can see, the purple, gold, & orange are pretty opaque. They are all shimmery except the illusion gloss. The name "illusion lip gloss" is definitely perfect for this product, as there is no pigmentation at all[Its the second to last gloss].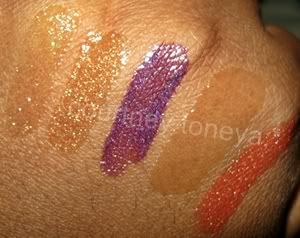 I found two Covergirl polishes for only $.50.
These are pretty opaque, so I will probably give them away.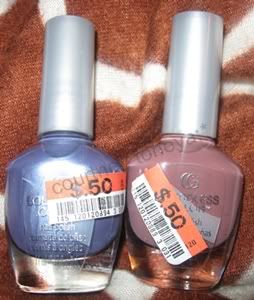 This is a Covergirl Trucheek blush set.
I couldn`t pass this up for only $1!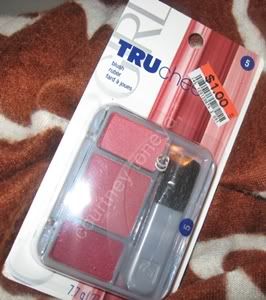 I found these three brushes.
The eyeshadow brush was $1.50 & the blush brushes were $.80 each.
Such a steal for the blush brushes!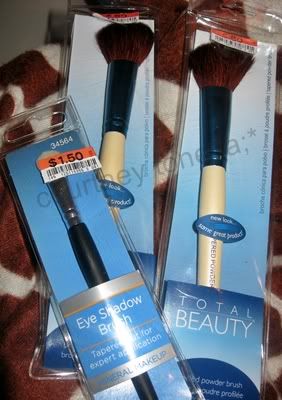 Lastly, I found a Conair Roller Set Kit for only $4!
These kits are about $8 at my local Walmart last I checked.
I`m very happy with my finds. Although the polishes were rather disappointing.
I can`t wait to continue this new segment on my blog.
Who knows, I may even find some items to giveaway.
;]
Have you guys had any Fab Finds lately?
Please do share!
Thanks so much for reading.
:]