Originally I was SUPER excited for this collection. Then swatches began to surface & I crossed off about half of my list. I wanted Hibiscus, but it reminded me of Vegas Volt. I also wanted Mocha, but it's permanent, so I can purchase that at anytime. I may go back to pick up Short Shorts eyeshadow, but I still haven't decided yet. The collection officially came out today. I decided to go to MAC to pick up the items I HAD to have. &I only paid $8.36 for these two! :D Luckily I had some leftover gift cards! Yay!
My Paradise Cheek Powder & Bust Out! Lipstick.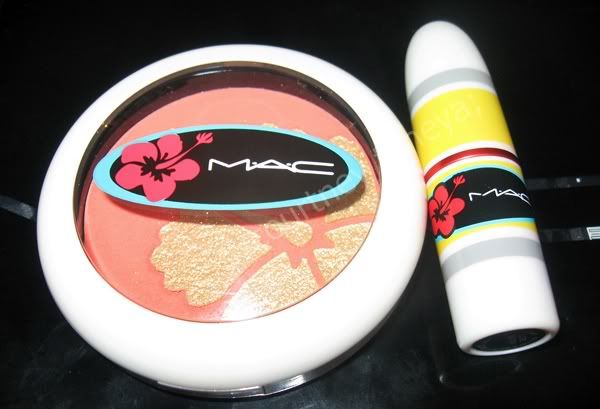 The packaging is ok. Nothing spectacular about it.
So I figured I`d pick it up in store.
&I most DEFINATELY will be going back ASAP to get a backup of this blush! :D



This is a Lustre lipstick & I LOVE the finish of it.

I can def do swatches if needed.
So, what'd you guys wind up picking up from this collection?
Thanks for reading! :]