I`m SUPER excited about this post!
You can see what I sent her
here
.
She sent me some lovely goodies & I appreciate her swapping with me.
The only Canadian brands I knew of were Annabelle, Joe Fresh, & Lise Watier.
I asked her to surprise me & she did not disappoint!
Here`s everything. :D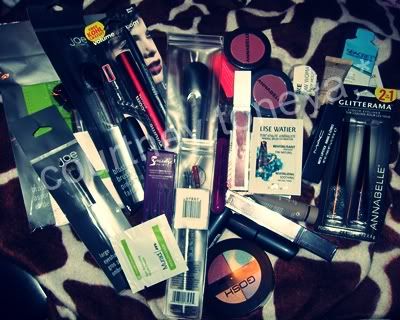 She sent me an Annabelle Smudge liner in Plummed, 2 Annabelle blushes in shade#s 48 & 18, a Gosh Quad in Jamaica, Vasanti blush in Rockies, a glistening body mousse in Vanilla Snow Woman, & 2 Lise Watier 12 hr glam flawless complexion moisturizers.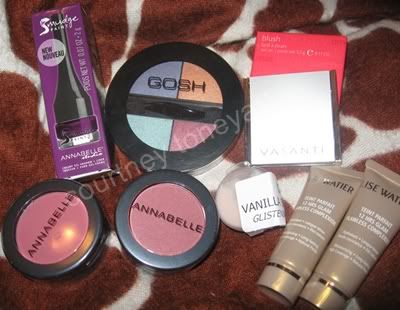 Closeups of Plummed & Rockies.
She also sent me 2 Annabelle Glitterama Liquid eyeliners in Plutonium & Blue Comet and their Volumelash.com mascara which came with a free eye kohl in black.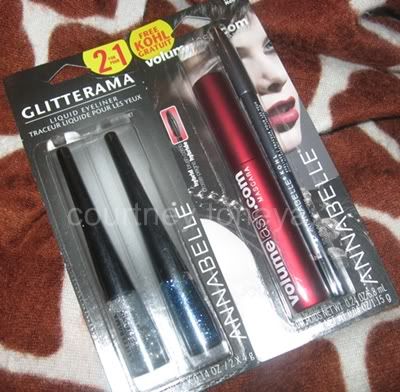 These are my favorites of the bunch! Lippiessss! :D
She sent 3 Annabelle lipsticks, 2 of the Quo Lipglosses in Captivate & Pout, 2 Annabelle Volume Lip glosses in Plum(p)tastic & Au Currant, & also a MAC lipstick that I missed out on! :D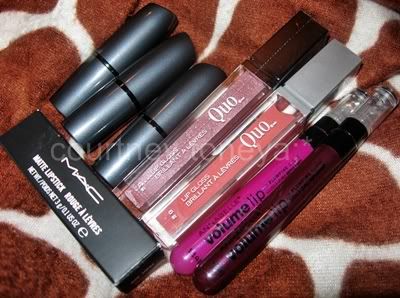 The Annabelle lipstick shades she sent were Plum Passion[Pearl finish], Sienna[Creme finish], & Adrenaline[Pearl finish].
I`m excited about this matte lipstick called Prince Noir from MAC.
It was limited edition & sadly I missed out on it when it came out.
Olivia had a backup & was sweet enough to send me one.
Samples of various face products.
2 Quo brushes. A blush brush & an angled eyeliner brush.
And lastly, some Joe Fresh brushes! I got a eyeshadow, powder, & a travel brush set.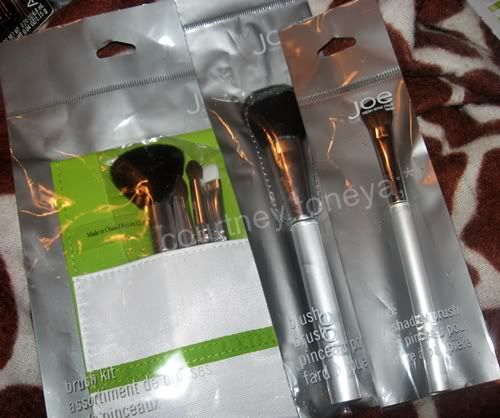 Overall I`m VERY happy with everything that I received. I`ve been wearing the Annabelle lipstick in Plum Passion a lot! I cannot wait to try out my brushes & all of my other goodies. Thanks again Olivia!
:D
Also ladies, be sure to check out
Olivia`s blog
[if you haven`t already].
She`s one of my favorite bloggers & always has the loveliest FOTDs.
Have any of you ladies tried any of these products or done a swap lately?
Let me know if you guys need swatches of anything!
Thanks so much for reading!
:D