Today I have a haul to share with you guys!
There are SO many new products out that I have wanted to try.
I picked up a few new Wet `n Wild items, Maybelline, &some old Rimmel London items.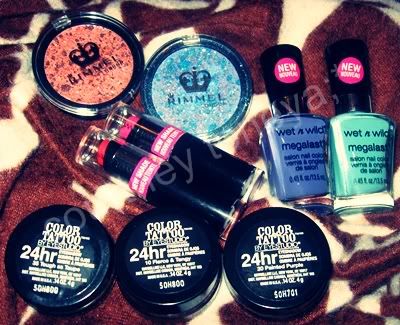 I got two of the new Wet `n Wild Megalast polishes. These retail for $1.99.
There are a ton of new shades that Wet `n Wild has come out with & I will be going back for more! I picked up On A Trip[purple] & I Need A Refresh-Mint[minty green].
Both are VERY gorgeous shades!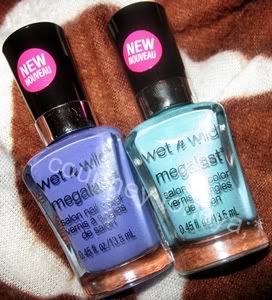 These also have a new ManiCurve Pro Brush, which I really like.
I think the brush makes it easier & quicker to polish my nails.
However, there is a tiny bit of a struggle to get the brush handle out of the polish.
It`s a bit too thick for the bottle, IMO.
Here are swatches of On A Trip & I Need A Refresh-Mint.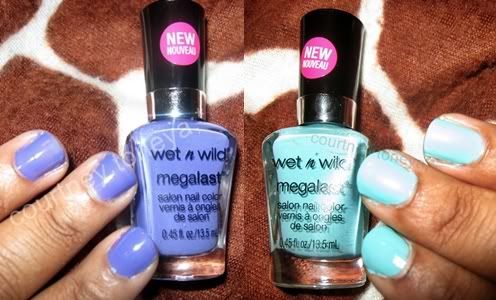 Next, Rimmel London was having a BOGO1/2. I have been eyeing the Stir It Up eyeshadows for a while. They actually were on "sale" for $1.79 & BOGO1/2 made it even better! I picked up As If[purple w/ blue chunks] & Wassup?[orange w/ burgundy chunks]. As you can see from the swatches below, the chunks are very overpowering. These shadows apply very smoothly. I will definitely be picking up the others!
Wet `n Wild has new Megalast lipstick shades!!! These retail for $1.99. I was SOOO excited when I saw these. I only picked up two, but apparently there are at least 4. I picked up Don`t Blink Pink[bright pink] & Purty Persimmon[orange-red]. & Wet `N Wild made the BEST adjustment, they include the lipstick names on the bottoms! YES! I was so excited to see that, because trying to memorize the names by the numbers was annoying! Lol.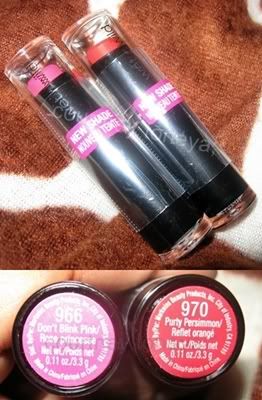 Swatches of Purty Persimmon & Don`t Blink Pink;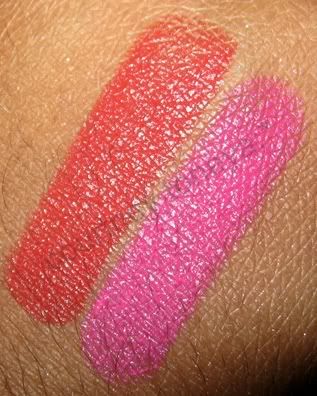 I also picked up some of the new 24hr Color Tattoos from Maybelline. I was really excited to try these, because I`ve heard they are similar to MAC`s paint pots, but MUCH cheaper. However, after swatching these, I`m not yet sold on them. They did not provide much pigmentation on my skin. I had to apply a few layers to get the desired opacity. :/ Not something I was expecting. The colors are really pretty & I will give them all a few tries before I just give up on them. I picked up Painted Purple[purple], Fierce & Tangy[orange], & Tough As Taupe[grey-taupe-y color]. I paid $5.99 for the orange. For the other two Walgreens was have BOGO1/2 with an original cost of $6.99.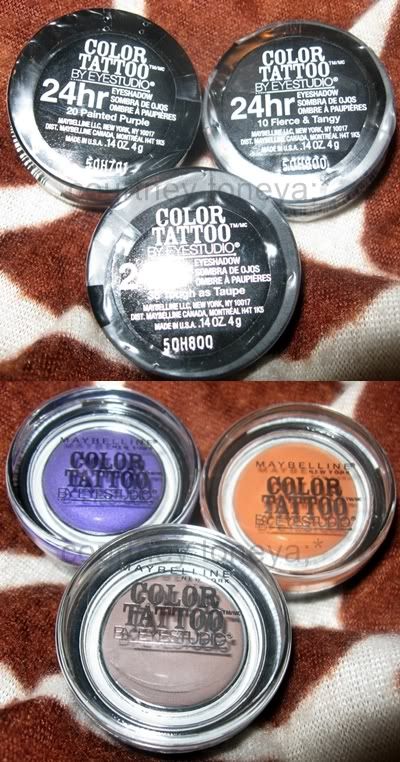 Tough As Taupe.
I`m excited to find the rest of the Wet `n Wild lipsticks & purchase more of the new polishes.
Also, I can`t wait to pick up the rest of the Rimmel London Stir It Up Shadows.
So, have you ladies tried any of the new Maybelline or Wet `n Wild products out?
Thoughts?
Thanks for reading, as always!
:]