So today I`m posting part 1 of my giveaway!
There will be 4 parts in total;
Eyes, Lips, Face, & Curls!
For the eye edition, you will be winning the Wet `n Wild Holiday Palettes in Baking A Cake, Baked, Not Fried, & Bake-Off Contest. You also will be winning Wet `n Wild`s I <3 Matte palette.
I may throw in a few extras as well.
See below for the rules & please make sure you follow them, I don`t want to DQ anyone.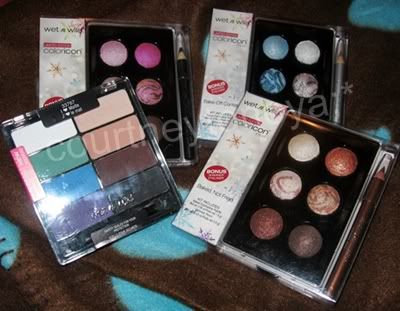 1. Must be a [Google Friend Connect] follower of

Eyes, Lips, & Curls

.
2. This is international! [Yay].
3.
Must leave a comment on this post telling me telling me your all-time favorite eye product
.
4. Must include your name/GFC name & an email in your comment.
5. Only 1 comment per person.
6.
If all of these rules are not followed, your entry will be removed & you will be disqualified
!
1. Create a post on your blog or on your blog's sidebar about this Giveaway. Include as much information as possible and a link to this post. Comment below with the URL to your post or blog.
2. Follow me on twitter[
@CourtneyToneya
]. &Tweet about my giveaway using: "Have you checked out @CourtneyToneya's giveaway? - http://bit.ly/zSRq5L"
Leave a comment with your Twitter username or link of the tweet.
If your Twitter is set to private &I am not following you, I can not see your tweet!
Be sure to include all entries in one comment.
So you have the opportunity to get 3 entries total.
Winners will be chosen via Random.org.
This giveaway ends on 3/16 @ 11:59 PM EST & I will contact winner soon after.
They will have 24 hours to respond to my e-mail.
Thanks so much for following my blog guys.
I appreciate each & every one of you & your lovely comments you leave
.