I hope you all had a lovely time bringing in the New Year!
I was on the road, so I didn`t pay much attention to the countdowns.
Today`s post is probably going to be one of my favorites.
It is my MAC lipstick/lipcolor collection.
Really it is my whole collection of MAC lippies.
[Minus my 2 lipglasses, which you can see
here
.]
Soooo, here we go. :]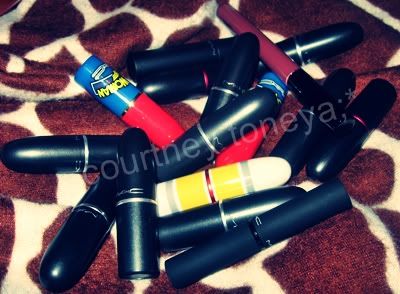 Above you see all 16 of my lippies.
[L to R;]
Ever Hip[Creamsheen], Up the Amp[Amplified], Freckletone[Lustre], Plum Bright[Lustre], Spitfire[Satin & I own 2].
My favorites are obviously Plum Bright & Spitfire! I quite often forget that I have Up the Amp. It`s still one of my favorites, but I`ve been using it less lately. I thought Freckletone would be a nice nude...it might be for someone lighter, but not for me! The only way I can pull off Freckletone is if I wear a dark lip liner. I was excited when I found out Ever Hip was being re-promoted...but this color has never really worked for me. Plus I have learned I am NOT a fan of Creamsheen finishes.
Can I still purchase these?
Ever Hip, Plum Bright, & Spitfire are all LE.
Up the Amp & Freckletone are permanent.
[L to R;]
Potent Fig Mattene[Matte], Bust Out![Lustre], Violetta[Amplified], Viva Glam III[Matte].
Bust Out!
is my favorite of this bunch. I love the finish of this lipstick & the color. It is VERY similar to
Plum Bright
.
Violetta
is a lipstick I`ve been waiting on since it released with the Disney collection. Now that I have it, I haven`t bothered to use it yet. However, I plan to change that soon!
Potent Fig
I thought would be nice to have as a bold daring color. It`s a very dark purple. There is a drugstore dupe that I found which you can see on my blog
here
. Lastly is
Viva Glam III
. I think this is a lovely color for everyday wear, especially for WOC. Plus when you purchase this proceeds go to a great cause!
Can I still purchase these?
Bust Out! & Potent Fig are LE.
Viva Glam III & Violetta are permanent, however you must get Violetta from MAC Pro.
[L to R;]
Vegas Volt[Creamsheen Amplified Creme, thanks for correcting me Rai. :] ], Siss[Satin], Taupe[Matte], Viva Glam Cyndi[Lustre].
Vegas Volt is a lipstick I saw a lot of ladies go crazy over. I was no different. However, it`s not for me. I think the color is gorgeous, but the finish looks terrible on my lips. I may have to try & play around with this color a little more as it truly is gorgeous. Siss was a CCO pick up. I thought it was pretty in the store, but when I got home, it was a different story. Just like with Freckletone, I have to use a darker liner to get this to work for me. It`s probably my least favorite of all. Viva Glam Cyndi is one I got from my sister. It`s a gorgeous color & has to built up on the lips a little for me to get the desired color I want. But well worth it in my opinion. Taupe was my first MAC lipstick purchase. I love the color & that it can be worn as an every day lip. Perfect for WOC, IMO.
Can I still purchase these?
Siss is LE.
Taupe & Vegas Volt are permanent.
Viva Glam Cyndi, I am not sure of...however, it`s not on MAC`s site anymore.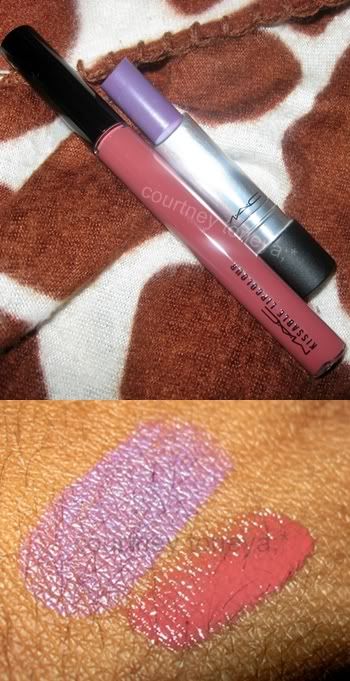 [L to R;]
Goes and Goes Lipcreme & Temper Tantra Kissable Lipcolor.
I can`t really do a mini review of these as I just recently picked them up. I can however say that they are both gorgeous colors. If you are a WOC, Goes and Goes may be a color that you have to play around with to get it to your liking. Temper Tantra is a lovely lipcolor. I def think this is going to be a great everyday shade.
Can I still purchase these?
Temper Tantra & Goes and Goes are both LE.
Sooo, there`s my collection. I am definitely looking to expand it in the near future. I actually have more that I thought I did. Also, I noticed for some reason, my Lustre lipsticks get "dusty"[?] as you can see above, especially with Bust Out! Does that happen to anyone else?
What are some of your favorite MAC lipsticks or lip colors?
I hope you guys enjoyed the post & got some good ideas of lipcolors to try out.
Thanks so much for reading & for the support!
:]