Hi ladies.
I decided to share my NOTW with you all.
I decided to use the Soulstice Nail Colour in Dublin.
On Soulstice`s website, Dublin is described as a deep gem emerald green.
I think this shade is a perfect color for Winter.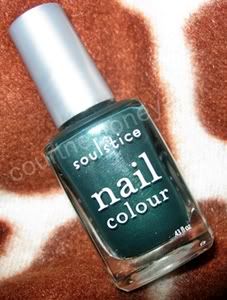 When the color start to chip, I`ll probably add a glitter or crackle polish.
To see swatches all of the
Solstice Nail Colours
I received, you can click
here
.
Hope you ladies enjoyed this NOTW post!
Hopefully, I`ll get back into doing these more often.
Have a lovely evening.
:]
[I won this polish from a giveaway, not being sponsored for this post.]