Hello ladiesss!
Today I wanted to share with you my Soulstice Nail Colors that I received.
I actually forgot that I won these, so they were an awesome surprise in the mail.
I was sent 5 nail polishes & decided to share swatches for you guys.
Here`s a little background info on Soulstice Nail Colors that I found on their website;
They are US based.
The polishes are 100% vegan & cruelty-free.
They also have $35 different shade.
[L to R;]
Ibiza, LA, Telluride, South Beach, &Dublin.
These are all shades from the 2011 Fall Collection.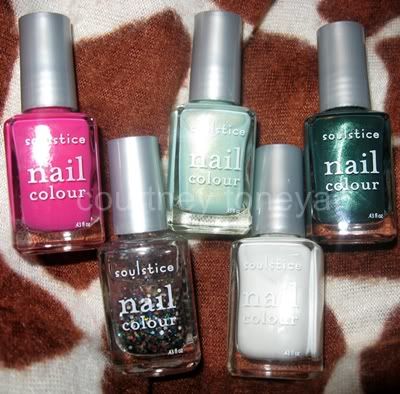 Ibiza; a very gorgeous hot pink color.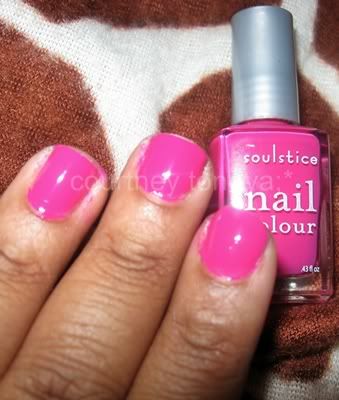 LA over Ibiza; LA is a multi-glitter polish.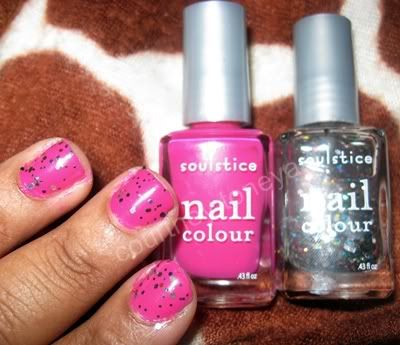 South Beach; a matte, sheer white.
[I had to use 3 coats for good opacity.]
Dublin; a lovely green shade.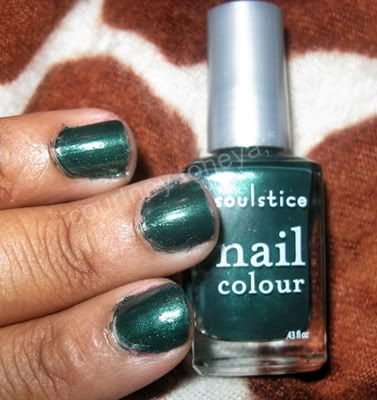 Telluride; a light green with gold shimmers.
[this one was a little hard to get a good photo of.]
My favorites would have to be Dublin, LA, & Ibiza.
They apply very smoothly & have a great shine without a top coat.
For me, South Beach was a little hard to work with.
It seemed sort of streaky for me.
Telluride is not a shade I would wear, but it`s still a lovely color.
I def would recommend picking up a few!
They have a ton of shades that sound lovely.
I think I`d love to try Rio & Provence out.
You guys can visit Soulstice`s website below;
Have you guys ever heard of Soulstice Nail Colors?
Thoughts?
Thanks so much for reading.
:]
*As noted above, I was sent these products as a giveaway prize. All opinions are un-biased.