Hi guys!
This week`s mani has actually lasted me a good while.
These new Wet `n Wild polishes are lasting me at least 4 days before chipping!
I am definitely going to need to pick up some more very soon!
For this week`s mani I wanted to use 2 of my newest polishes.
I am using Wet `n Wild`s On A Trip & Soulstice Nail Colour in LA.
Here are my nails with just On A Trip.
&With LA on top of On A Trip.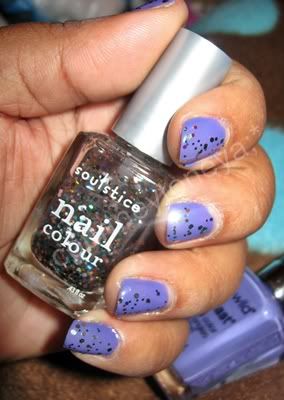 As noted above, the WnW nail polishes are actually lasting me a lot longer than the others they have. I am not quite sure if they updated the formula or not, but so far I like it!
Also, if you have not picked up any of Wet `n Wild`s new nail polishes, visit Walgreens this week as they are Buy 2 Get 1 FREE! So 3 polishes for only $4! Such a great deal.
I hope you ladies enjoyed my NOTW!
What are you ladies wearing on your nails this week?
Have a great weekend & thanks for reading.
:]