Hey guys!
First off hello to all of my new readers & old ones.
I will be picking my winner for the Eyes giveaway soon.
The lip giveaway will be up later this week, hopefully.
As some of you know, I`m an
Avon rep
, so I am always excited to try their new products out.
Today I wanted to share my thoughts on one of the
limited edition quads Avon
has out.
When I saw these limited edition quads & lipsticks I knew I had to have them!
I have never tried any of the Avon quads & thought this would be a great time to try them out.
I picked up the quad in
Mystery
. It appealed the most to me.
I did not expect the packaging to be limited edition as well, but it was.
I totally love it!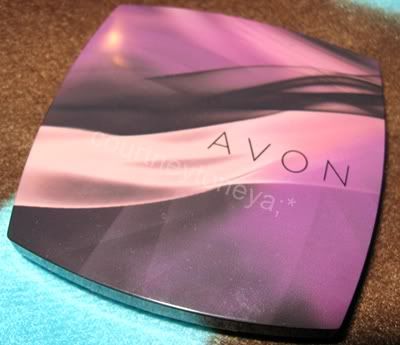 Purple Hazed, Apricot Reflection, Apricot Mystery, & Glistening Woods.
Swatches clockwise from the left:
Purple Hazed, Apricot Reflection, Apricot Mystery, & Glistening Woods.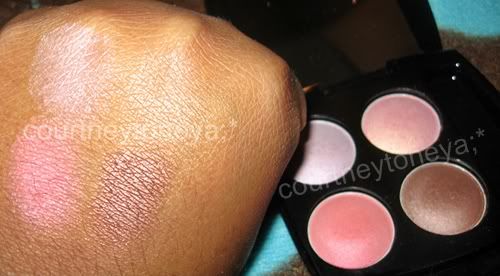 For this to have been my first Avon quad, I was a little disappointed. I think Glistening Woods is my favorite shade from the palette. It`s a very neutral bronze-y shade. Great for the crease. Purple Hazed is a pretty lavender, however you do have to build the color up to get some opacity. I had high hopes for Apricot Mystery, however it is a very chalky shade. Very disappointing. I almost forgot Apricot Reflection, probably because it is so sheer. I tried to build it up for you guys to see a swatch, but it's just a slight gold shimmer. Nothing major. I used it to lightly highlight my brow bone.
Now I can`t speak on all of Avon's quads as this was my first, but this one I would not recommend. I don't think it's a must have at all. The only promising shade was Glistening Woods. So I say save your money before purchasing this one!
I might consider buying another Avon quad, but only after I look up swatches.
Hopefully this helped you if you were thinking of purchasing this quad.
Thanks so much for reading!
:]
I am an Avon Rep, however, I bought this quad myself & I am giving my honest opinion on this product.