Sorry for the brief hiatus. I had some issues I needed to deal with.
I did pick my MAC giveaway winners from a small list who followed ALL the rules.
I have contacted them & I will be sending their prizes out shortly!
I decided to share my NOTW.
I`ve been wearing Wet `n Wild`s Bite the Bullet.
It is a light purple shade. Very pretty.
I applied 2 coats to get the perfect opacity.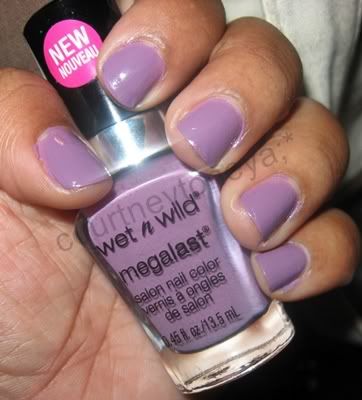 If you can`t tell, I have been loving the new & improved Wet `n Wild polishes!
If you have the older Megalast polishes, they are the same. Just a different brush.
I realized this when I almost bought a shade I already had! Lol.
What`s on your nails at the moment?
Hope you ladies enjoyed this post!
Thanks for reading!
:]