Firstly, I have picked my MAC winners & will be reaching out to them shortly!
Today I`m sharing my recent Avon haul.
I picked up a ton of lip products this go around & some cute earrings.
Let`s get into the haulage! :D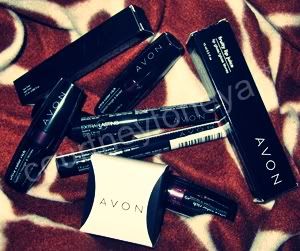 I picked up all 4 of the new Avon Ultra Color Rich lipsticks from the Enchanted Spring limited edition collection.
Perplexed Purple, Purple Hazed, Nude & Infused, & Apricot Mystery.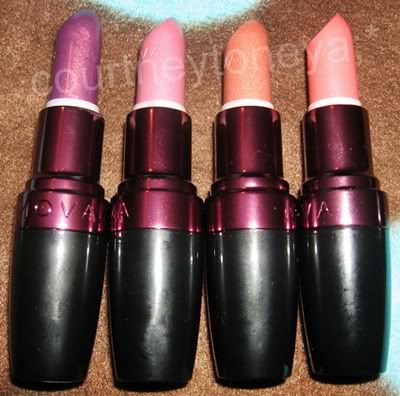 Swatches[in same order];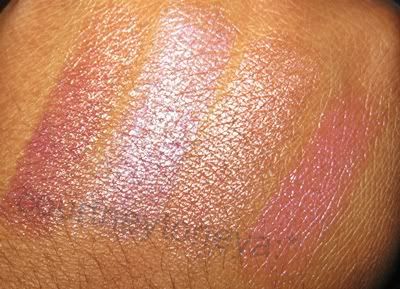 My thoughts on the Avon Ultra Color Rich lipsticks;
These are VERY sheer & have a TON of shimmer in them. That is one thing I really dislike about these lipsticks. Purple Hazed & Apricot Mystery are two that I see myself wearing a few times. Purple Hazed is a light lavender, I would pair this with a purple liner or gloss. Apricot Mystery is a pink shade with purple & pink shimmer to it. Very pretty color.
Perplexed Purple & Nude & Infused are two shades I can live without. Nude & Infused is a bronzey, shimmery, nude shade. Perplexed Purple is a purple with a slight gold shimmer to it. I was hoping this would be a bit more pigmented.
Price? $7.
A must buy? No.
[T to B;]
Big Color Glossy Lip Pencil in Glossy Mauve. Extra Lasting Lipstick in Totally Twig.
Swatches[in same order];
My thoughts; I LOVE THESE! Both of these are perfect for everyday wear. Glossy Mauve is a gorgeous brown nude, does not look mauve to me. The glossiness of it is perfect. This does apply sheer, but is perfect for an everyday nude lip. Totally Twig is a gorgeous rosy shade. This has a creme finish & goes on very smooth. Is it "extra lasting"? No, but it did last me a few hours before needing to be re-applied.
Price? Lip Pencil - $3.99. Lipstick - $9
A must buy? YES!
Next I have the Fruity Lip Juice in Fresh Grape & the Extra Lasting Liquid Eyeliner in black.
Swatches;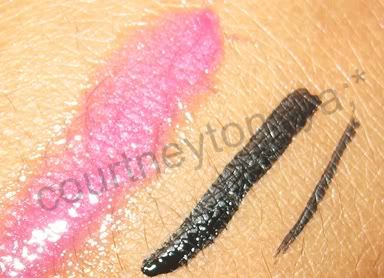 My thoughts; The lip gloss is wonderful. I picked Fresh Grape out because it is purple[DUH!]. I was not expecting it to be as pigmented as it is. That was a pleasant surprise. This lip gloss does have a grape scent, which I love. Great to throw in your purse for a light burst of color. I do plan on picking up a few more. The eyeliner I was hoping would replace my Sephora liner. It's very thick & applying it lightly does not work for me. It looks patchy on my eyes & then I have to go back & fill in the spaces. I don`t think I`ll be repurchasing.
Prices? Lip Gloss - $1.99. Eyeliner - $9.
A must buy? I recommend the lipgloss, but not the liner.
Last up are the GORGEOUS Princess Cut CZ Stud Earrings.
[VERY hard to photograph these.]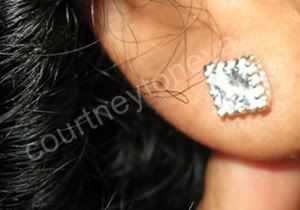 My thoughts; You guys need these in your life! I have gotten so many compliments on these earrings & have been wearing them ever since I bought them. They are so gorgeous & elegant. Perfect for any occasion.
Price? $4.99[Insane, right?]
A must buy? YES!
Overall I am happy with a few of my purchases this time around.
Have you ladies tried any Avon lately?
As always, you can purchase Avon from your local Avon rep or my online estore.
[Email me @ c0urtkneee@yahoo.com or tweet me for a discount on your first order with me.]
Hopefully you ladies enjoyed this post.