Hey ladies!
First off thanks to everyone who entered my giveaway & hello to all of my new readers!
I will be contacting the winners in a few days, just have to go through the entries.
Tomorrow[4/5] MAC will be releasing 3 collections.
However, they always pop them up online a few days earlier.
I was lucky enough to pick up 2 lipsticks that I wanted.
Both of these lipsticks are from the new Reel Sexy collection.
I picked up Pink Popcorn & Heroine.
Both are limited edition lipsticks.
Pink Popcorn is a lustre. Very sheer & hard to build up this color.
The lip swatch below was about 5 or 6 swipes. As you can see, still a bit sheer.
I may try a liner underneath or a gloss on top when I wear this out.
Pink Popcorn.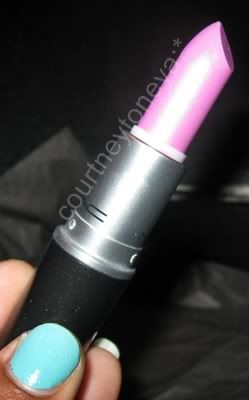 Lip swatch.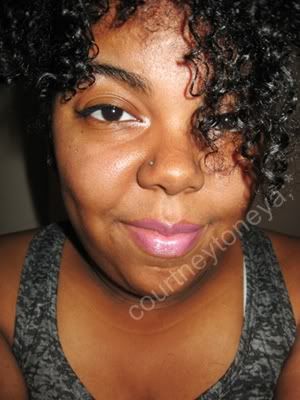 Next up is Heroine.
Y`all know I love me a purple lip!
This is a matte shade, very gorgeous purple.
It does not look matte below because of my lip moisturizer underneath.
Mines did melt a little in the tube. :/
Heroine.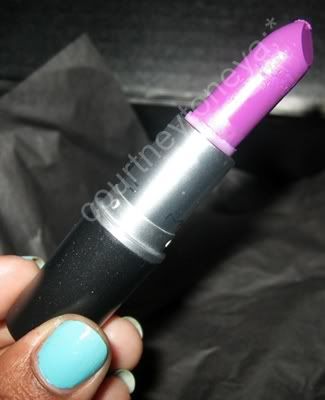 Lip swatch.
I also tried to compose a comparison of other MAC shades & a few drugstore brands;
Rimmel London Vintage Pink, Revlon`s Lilac, MAC`s Pink Popcorn, MAC`s Heroine,
MAC`s Bust Out,
MAC`s Violetta,
MAC`s Goes & Goes,
MAC`s Spitfire,
MAC`s Up The Amp.
I personally don`t own any shades that are exact dupes to these shades.
If you come across any, please do share!
You can purchase Pink Popcorn & Heroine at your local MAC store/counter or online if they have not sold out!
Did you guys purchase anything from Reel Sexy?
If so, what?
Thanks so much for reading!
Have a great evening & happy shopping!
:]