I recently went on a little road trip[Arkansas & Missouri] & normally I take almost my whole makeup collection. Lol.
Luckily, this trip I narrowed it down quite a bit.
I`m going to be doing a TON of traveling this summer, so I thought I`d show you guys
what was in my makeup bag this trip.
Face;
MAC MSF in Redhead. This has a gradient of colors from beige to salmon. Super gorgeous. This has to be my all-time favorite highlighter

!

NYC Cheek Glow in Chelsea Coral

. This is a gorgeous coral blush.

Black Radiance Artisan Color Baked Blush in Warm Berry

. This is a lovely red toned berry blush. I apply this lightly & blend, blend, blend.
Lips;
MAC Kissable Lip Color in Temper Tantra. This goes with me everywhere! I absolutely cannot get enough of this color. Revlon`s Super Lustrous Lipstick in Mink. Perfect nude for me. ELF Glossy Gloss in Wild Watermelon. I wanted to take a lips product with me that provided a little color to my lips. This gave me a nice, pink, & glossy lip.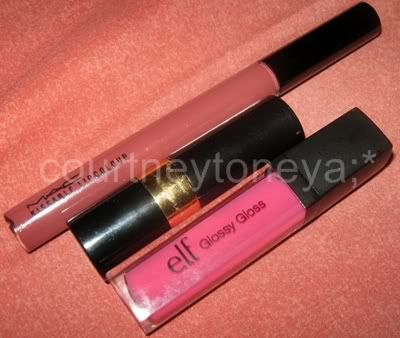 Eyes;
Wet `n Wild Vanity Palette. I think all ladies should own this. Perfect for a neutral everyday eye look. Exactly was I was going for on this trip. Annabelle VolumeLash.Com mascara. You guys don`t understand how amazing this mascara is! It give my lashes just the right amount of volume & no clumping. Almay Bright Eyes Base/Concealer. Of course you need a shadow base for your eyeshadows! This is the only eye base I have found so far that keeps my shadows in line for at least 5 hours. Love it! NYX Eyeliner in Purple. I bring this with me for just a pop of color on the eyes. Sephora Liquid Liner in Black. This is the best liquid eyeliner I have ever in my life used. Goes on so smoothly. Definitely need to repurchase.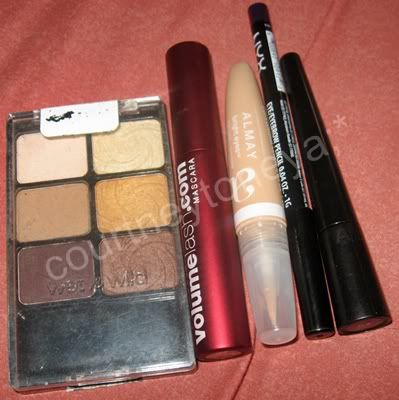 *Not Pictured, Rosebud Salve lip balm. This has to go with me EVERYWHERE.
No chapped lips here. Lol.
I know we all have beauty products we have to have with us on trips!
What are some of you ladies must haves for a trip or vacation?
Hope you guys enjoyed this post.
Thanks so much for reading & supporting my blog!