Today I have a

review on the Lush Dark Angels Cleanser.
I went to Lush to pick up a toner & was given a free sample of this cleanser to try.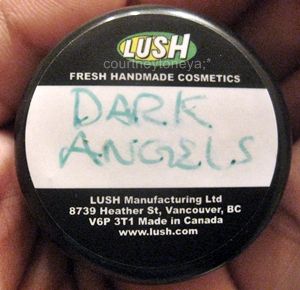 This is what the product look like.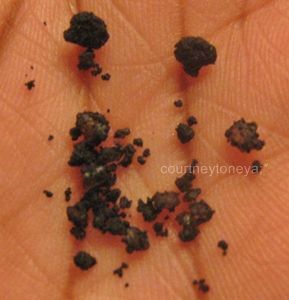 It looks like someone took coal & mashed it into little pieces.
What you do is take a bit in your hand, add water, & work into a paste.
Then, apply to your face.
This is how it looks applied.
I left the mask on for about 5 minutes, then rinsed with cool water.
I then applied my Tea Tree Water toner from Lush.
This stuff is amazing as well!
My thoughts;
My skin felt so refreshed after using this cleanser. It rid of a lot of the oily-ness in my skin. I noticed a significant change in my forehead. It left my skin feeling moisturized & not dry, which is definitely a plus for me. The smell & texture would be the only "bad" things about this product. Luckily, the smell did not linger long. I would suggest being careful when you apply this & make sure that you mix the product well. If not, you may "scratch" yourself.
Cost - $10.95 - $26.95 [Price may vary in store, depending on how many grams you buy.]
Not too expensive. Especially considering this product can last you a few months!
Would I purchase?
Yes. I would get a smaller size, as I may not use it quickly.
Have you ladies tried this cleanser out?
What are some of your favorite Lush products?
Thanks so much for reading!