While I was in Vegas, I decided to pop by a MAC counter.
This counter was located inside of a Macy's.
The sales rep who assisted me was super nice & friendly.
I decided to finally pick up MAC`s Touch.
My sister owns this lipstick & I swatched it.
It was a gorgeous nude & I knew I had to have it!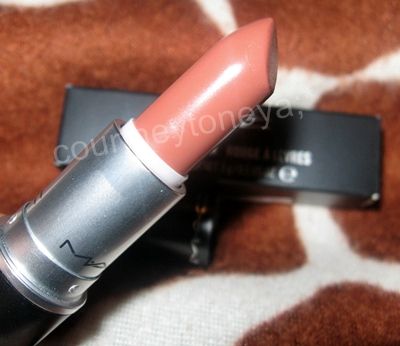 The lipstick is a bit more brown than it appears in the photo.
The finish is a lustre, which is one of my favorite from MAC.
The texture is very smooth & it provides just the right amount of color for my lips.
Here I am wearing MAC`s Touch;
I absolutely love this lipstick & can definitely see myself wearing this a lot.
I`m pretty sure I`ll go through this lipstick quickly.
MAC`s Touch can be purchased at your local MAC store or counter.
The cost was $14.50.
I hope you guys enjoyed this post.
Thanks so much for reading!