I have a MUA haul to share with you guys!
Rai tweeted about a sale MUA Cosmetics was having & I decided to browse.
This is a brand located in the UK and they do ship to the US.
They were having 25% off sale PLUS free shipping to the US.
I couldn`t pass up browsing with that offer!
When I first visited the site, the brand reminds me somewhat of Sleek mixed with ELF.
Their variety wasn`t too appealing to me, but the palettes & glosses intrigued me.
I decided to pick up a few things & all together I think I spent around $12.
12 Shade Undressed Palette.
I had to get another neutral palette.
You guys know I love my neutrals!
12 Shade Poptastic Palette.
This palette really "popped" out to me when I was looking online.
I decided to go ahead & pick it up to do some fun, colorful looks.
MUA Out There Plumping Glosses in Pin Up Pink & Buff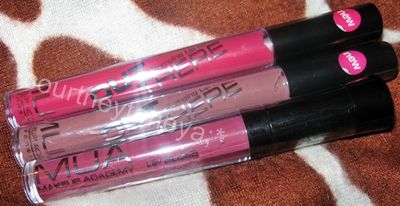 So far I`ve only used Buff. As we know, with plumping products, there is a slight tingling.
The tingling lasted for about 10 minutes when I used this gloss. Definitely wasn`t expecting it to last that long.
Excited

to try out the MUA Shade 4 Lip Gloss.
Blusher in Shade 5.
The blushers were super cheap, only

£

1.00.
I decided to pick a random shade & this happened to be the one.
I will certainly have swatches up soon.
Did you guys get to order any MUA goodies?
If so, what`d you pick up?
Thanks so much for reading!