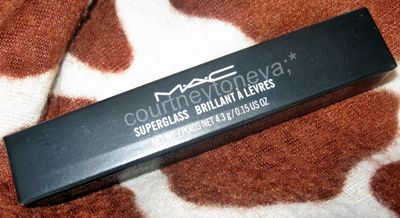 Hey Beauties!
Recently I made a purchase from Beyond the Rack.
I had a credit for $15 & got an e-mail about a MAC Cosmetics sale.
[I hope everything was authentic]
I was super excited about the selection they had.
There were foundations, blushes, eyeshadows, & lip glosses.
I decided to pick up one lip gloss.
It`s actually called a Superglass, which is Limited Edition.
The shade I purchased is Superflash!
It`s a pretty pink shade with some fun golden shimmer.
One thing that did upset me about Beyond the Rack was their Customer Service, or lack thereof. I attempted to "Live Chat" with one of their reps after I placed the order. I did not realize the shipping would be $10, which is IMO totally outrageous for only a lip gloss! I initially wanted to cancel the order, but when I asked the rep how to do so, I got ignored. I found the answer myself & later got a reply of "I`m Sorry". Their shipping cost and customer service have turned me off from future purchases. I may browse, but that will probably be about it.
On a brighter note, I figured there was no point to cancel since my Superglass was technically $10. Their website says it would take about 4 weeks for me to receive the gloss, however, my order shipped about 1-2 days later & I received it within a week. That was a huge surprise that I was not expecting!
I will certainly have my new Superglass swatched soon for you guys.
Thanks so much for reading!