I normally don`t do "favorites" posts, but this month I had a few items I was using regularly & decided to share.
I have some makeup, nail polish, & hair products to share with you.
Makeup Favorites;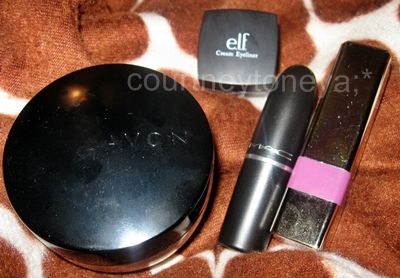 Avon`s Ideal Flawless Loose Powder in Fawn
.
I picked up this product just to test it out. I thought it was going to be the wrong color, but it`s actually matches quite well. This powder feels very light & does not cake on. It`s very easy to control the coverage level you need.
ELF`s Cream Liner in Black. I`ve had this for a while, but never opened or used it. Since I ran out of my liquid

liners, I figured I would give this a shot. It goes on very smooth & is easy to work with. I definitely have enjoyed using this product this month for a quick wing liner.
MAC`s Touch lipstick. You beauties know I love MAC`s Lustre finish. This lipstick is the perfect brown nude. I`ve used it so much already this month & will definitely be repurchasing.
L`Oreal Colour Riche in Violet Chiffon. The price tag is not too pretty, but the color is. This shade is the most perfect drugstore pink-ish, purple I have found. I love that it gives you decent pigmentation & hydrates your lips. It reminds me a little of MAC`s Lustre finishes.
Nail Polishes;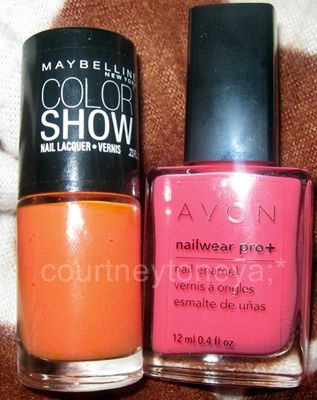 Avon`s Nailwear Pro+ Nail Enamel in Coral Reef. I saw this shade in a limited edition ad & thought it was a pretty color. I tend to stay away from pinks because they look odd on me. Once I tried this shade on my nails, I was singing a different tune. Absolutely

a gorgeous shade.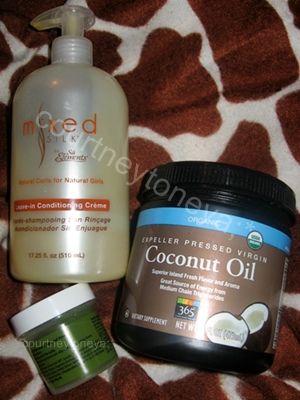 Mixed Silk By Silk Elements Leave-In Conditioning Creme. I ran out of my beloved Beautiful Textures this month & decided to use this product that I had left over. I used this quite a bit this month when my hair was curly. This leave-in provides great moisture to my hair & leaves my hair feeling light & soft to the touch. It does sort of smell like dish detergent which would be the only down side to this product.
365 Everyday Value Pressed Virgin Coconut Oil. I bought this from Whole Foods & just can`t get enough! I wore my hair straight about two weeks & I cannot use anything water based on my hair. If I do, poof, reversion. So, I turn to oils. Coconut oil is amazing for my hair, gives me great shine!
Palmer`s Olive Oil Gro Therapy. As some of you know, I tend to have dryness around my edges. I used this product around my edges to help with flakiness. It worked great & was only $1 at Big Lots! I did see a difference when I used this product. Also, it gave a nice shine to my hair as well.
I hope you guys enjoyed my July Favorites.
What poduct(s) did you guys enjoy this July?
Thanks so much for reading!