Hi loves. I wanted to share a few of my current favorites with you guys. Surrounded by Florida`s humidity, I rarely wear much makeup anymore. That will probably be changing in the next few weeks tho as I`m ready to start "dressing up" my face again. Lol.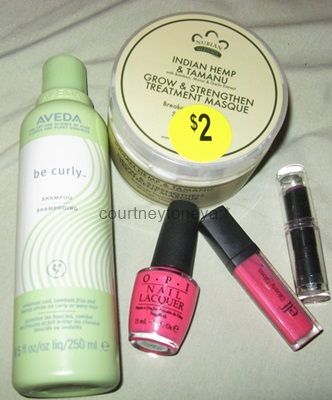 Aveda Be Curly Shampoo has been my favorite shampoo lately. At first I was skeptic, but this shampoo really gets my curls cleanse & helps keep them feeling amazing. It is a bit expensive[$21, i think], but I honestly have had this shampoo for about 3 months & have YET to finish the bottle. As school has taught me, sometimes less is more!
Nubian Heritage Indian Hemp & Tamanu Grow & Strength Treatment Masque. This deep conditioning masque is AMAZING! I use this very often in place of actual conditioner. I leave it on for about 5 minutes & rinse my hair. Once I`m out of the shower, my curls feel super moisturized. Plus again, a little goes a LONG way. I`m only about halfway thru this jar & I`ve had it since about Feb. As you can see I paid $2 @ Walgreens & I hope that Nubian Heritage isn`t discontinuing it because I`m definitely gonna need to repurchase this & a few more items from this line.
O.P.I.`s Suzi`s Hungary Again! I normally stay away from pink nail polish, but this one called my name in the store. I paid I think $4 for this @ I wanna say SalonCentric. & I refuse to buy OPI for $8 ever again! That store had me in OPI HEAVEN! Lol. This nail polish is such a gorgeous shade. Of course I`ll be swatching soon in another post. :D
E.L.F. Glossy Gloss in Wild Watermelon
. We all know these glosses are amazing. They helped add amazing gloss to my lips when I didn`t feel like wearing any lipstick. I got so many compliments from co-workers when I was wearing this. I have to remember to start using these more. I think I paid $3 for this, but I can`t remember.
Wet `n Wild Ravin Raisin. No words are even needed for this baby. It`s my favorite deeper purple lipstick EVER. I recently reconnected with this baby once I found it again & I`ve been wearing it out lately. It`s time to pick up a new one, again. Lol. I think I paid $2 for this. Somewhere around there.
Hope you guys enjoyed this post.
Thanks so much for reading!